Silicon Labs Blue Gecko Bluetooth Smart Module
Now Available at Mouser
August 18, 2015 - Mouser Electronics, Inc. is now offering the BGM111 Blue Gecko Bluetooth® Smart Module from Silicon Labs. This ultra-low-power, Bluetooth 4.1 (Bluetooth Smart) module is designed for applications where good RF performance, ultra-low power consumption, and easy development are main design factors. With TX power up to 8dBm, RX sensitivity down to -93dBm, and up to 200 meters range, the BGM111 has best-in-class RF performance and can provide long-range, robust Bluetooth Smart connectivity.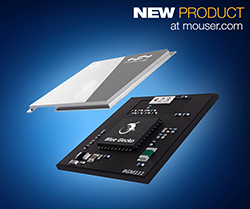 The Silicon Labs BGM111 Blue Gecko Bluetooth Smart Module, available from Mouser Electronics, integrates Bluetooth radio, an antenna, Bluetooth Smart software stack, and GATT-based profiles, and includes the Profile Toolkit™, which allows designers to create additional GATT-based services. The BGM111 also includes a 32-bit ARM® Cortex®-M4 processor and can host end-user applications, which eliminates the need for an external microcontroller in devices with size, price or power constraints.
The BGM111 Bluetooth Smart module has flexible hardware interfaces — including UART, SPI, and I²C — to connect to different peripherals or sensors. The module offers up to 25 GPIO with interrupts, four 12-bit analog-to-digital converters (ADCs), one 12-bit digital-to-analog converter (DAC), an internal temperature sensor, autonomous hardware crypto accelerator, and an integrated DC-DC buck converter. The module has a wide input voltage range, from 1.8V to 3.8V, enabling engineers to power wireless system designs from a single 3V coin cell battery or two AAA batteries.
Mouser Electronics is also now shipping the Silicon Labs SLWSTK6101A Bluetooth Smart Module Wireless Starter Kit. This starter kit features an on-board J-Link debugger, a virtual COM port interface, an LCD display and a humidity/temperature sensor and test points to access all the pins of the Blue Gecko Bluetooth Smart Modules. The WSTK6101A Wireless Starter Kit is supplied with an expansion board (BRD8006A Add-on Board) that can be connected to the WSTK mainboard expansion header. The expansion board contains additional peripherals such as an accelerometer, buttons, LEDs, joystick, and an I²C expansion slot.
The Silicon Labs BGM111 Blue Gecko Bluetooth Smart Module targets low-power, wireless applications, such as sports and fitness tracking, health and medical devices, Internet of Things (IoT) connectivity, and home and factory automation.
To learn more about the Silicon Labs BGM111 Bluetooth Smart Module and SLWSTK6101A Wireless Starter Kit, visit http://www.mouser.com/silabs-bgm111-module/.
With its broad product line and unsurpassed customer service, Mouser caters to design engineers and buyers by delivering What's Next in advanced technologies. Mouser offers customers 21 global support locations and stocks the world's widest selection of the latest semiconductors and electronic components for the newest design projects. Mouser Electronics' website is updated daily and searches more than 10 million products to locate over 4 million orderable part numbers available for easy online purchase. Mouser.com also houses an industry-first interactive catalog, data sheets, supplier-specific reference designs, application notes, technical design information, and engineering tools.
About Mouser Electronics
Mouser Electronics, a subsidiary of TTI, Inc., is part of Warren Buffett's Berkshire Hathaway family of companies. Mouser is an award-winning, authorized semiconductor and electronic component distributor, focused on the rapid introduction of new products and technologies to electronic design engineers and buyers. Mouser.com features more than 4 million products online from more than 500 manufacturers. Mouser publishes multiple catalogs per year providing designers with up-to-date data on the components now available for the next generation of electronic devices. Mouser ships globally to over 500,000 customers in 170 countries from its 492,000 sq. ft. state-of-the-art facility south of Dallas, Texas. For more information, visit http://www.mouser.com.
About Silicon Labs
Silicon Labs is a leading provider of silicon, software and system solutions for the Internet of Things, Internet infrastructure, industrial automation, consumer and automotive markets. We solve the electronics industry's toughest problems, providing customers with significant advantages in performance, energy savings, connectivity and design simplicity. Backed by our world-class engineering teams with unsurpassed software and mixed-signal design expertise, Silicon Labs empowers developers with the tools and technologies they need to advance quickly and easily from initial idea to final product.
Trademarks
Mouser and Mouser Electronics are registered trademarks of Mouser Electronics, Inc. All other products, logos, and company names mentioned herein may be trademarks of their respective owners.