Get the New Pocket-Sized Intel Compute Stick with Linux
Available Now at Mouser
July 30, 2015 - Mouser Electronics, Inc. is now shipping the Intel® Compute Stick with Ubuntu Linux, a new generation of computer from Intel Corp. The Compute Stick is a revolutionary new device that enables any screen with an HDMI interface to become a fully functional personal computer. The Compute Stick comes pre-installed with the Ubuntu 14.04 LTS operating system. The Intel Compute Stick is a fully-functional computer in a package similar to a large USB stick.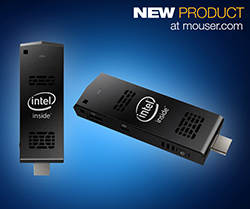 The new Intel Compute Stick with Ubuntu Linux, available from Mouser Electronics, is powered by a 64-bit 1.33GHz Intel® Atom™ Z3735F Quad-Core processor with 2Mbytes cache, integrated Intel HD graphics, and multi-channel digital audio. The Compute Stick plugs into any display that has an HDMI 1.4a interface. Networking is achieved with onboard IEEE 802.11 b/g/n WiFi, and peripheral connectivity is available through the Bluetooth 4.0 and USB 2.0 interfaces. Once plugged into a display's HDMI port, the user powers the Compute Stick with a wall adapter. A status LED indicates the device is powered while both graphics and audio is provided through the HDMI port. The device can be controlled through a wireless keyboard and mouse.
The Intel Compute Stick with Linux is available from Mouser Electronics running a custom build of Ubuntu 14.04 LTS operating system direct from Canonical, with all the latest updates. The stick has 8GBytes of eMMC Flash for user file storage and 1GByte of RAM. An Intel Compute Stick running Microsoft Windows 8.1 is also available from Mouser Electronics. Flash user storage is expandable for both versions through a microSDXC slot on the side of the device.
Once configured, the Intel Compute Stick has all the performance and functionality of a full-sized computer and can browse the web, view online video, edit photos and files, and play music.
To learn more, visit http://www.mouser.com/new/Intel/intel-compute-stick/.
With its broad product line and unsurpassed customer service, Mouser caters to design engineers and buyers by delivering What's Next in advanced technologies. Mouser offers customers 21 global support locations and stocks the world's widest selection of the latest semiconductors and electronic components for the newest design projects. Mouser Electronics' website is updated daily and searches more than 10 million products to locate over 4 million orderable part numbers available for easy online purchase. Mouser.com also houses an industry-first interactive catalog, data sheets, supplier-specific reference designs, application notes, technical design information, and engineering tools.
About Mouser Electronics
Mouser Electronics, a subsidiary of TTI, Inc., is part of Warren Buffett's Berkshire Hathaway family of companies. Mouser is an award-winning, authorized semiconductor and electronic component distributor, focused on the rapid introduction of new products and technologies to electronic design engineers and buyers. Mouser.com features more than 4 million products online from more than 500 manufacturers. Mouser publishes multiple catalogs per year providing designers with up-to-date data on the components now available for the next generation of electronic devices. Mouser ships globally to over 500,000 customers in 170 countries from its 492,000 sq. ft. state-of-the-art facility south of Dallas, Texas. For more information, visit http://www.mouser.com.
About Intel Corp
Intel is the world's largest manufacturer of semiconductors and has established a heritage of innovation that continues to expand the reach and promise of computing while advancing the ways people work and live worldwide. Intel's entire processor portfolio provides design engineers with direct access to the industry's most advanced processors. Intel's industry-leading technologies are created using the most advanced foundry process technologies in the industry, producing unprecedented levels of performance and efficiency.
Trademarks
Mouser and Mouser Electronics are registered trademarks of Mouser Electronics, Inc. All other products, logos, and company names mentioned herein may be trademarks of their respective owners.