Cree 12GHz GaN HEMT-based MMICs Now at Mouser
May 18, 2015 - Mouser Electronics, Inc., the global authorized distributor with the newest semiconductors and electronic components, is now stocking the Gallium Nitride High Electron Mobility Transistor (HEMT) Monolithic Microwave Integrated Circuits (MMICs) from Cree. These new MMICs target X-band and C-band high frequency applications.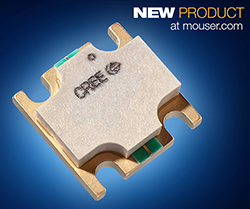 The Cree GaN HEMT-based MMICs, available from Mouser Electronics, are high-power high-performance Gallium Nitride transistors. Gallium Nitride (GaN) is a wide bandgap material used for high power high performance semiconductors with electrical characteristics superior to conventional silicon devices, useful in many applications including power conversion systems. High speed GaN devices demonstrate noticeable performance advantages in sensitive radar equipment, satellite radios, and broadband amplifiers.
These new Cree GaN MMIC transistors provide extremely wide signal bandwidths in a very small footprint. Minimum power output is 25 Watts for the Cree CMPA5585025F MMIC for 5.5 to 8.5 GHz C-band communications. The Cree CMPA801B025F MMIC provides 25 Watts for the 8 to 11 GHz X-band frequencies used for radar and communications systems. The high end Cree CMPA601C025F MMIC supports the X-band operating frequencies from 6 GHz up to 12 GHz at 35 Watts. These GaN MMICs are available in screw terminal mountings.
Cree GaN MMIC transistors target high precision, high reliability, high frequency applications such as marine and land-based radar systems, broadband radio amplifiers, point-to-point radio systems, satellite communications including uplinks, and test equipment amplifiers.
To learn more, visit: http://www.mouser.com/new/cree/cree-gan-mmics/.
With its broad product line and unsurpassed customer service, Mouser caters to design engineers and buyers by delivering What's Next in advanced technologies. Mouser offers customers 20 global support locations and stocks the world's widest selection of the latest semiconductors and electronic components for the newest design projects. Mouser Electronics' website is updated daily and searches more than 10 million products to locate over 4 million orderable part numbers available for easy online purchase. Mouser.com also houses an industry-first interactive catalog, data sheets, supplier-specific reference designs, application notes, technical design information, and engineering tools.
About Mouser Electronics
Mouser Electronics, a subsidiary of TTI, Inc., is part of Warren Buffett's Berkshire Hathaway family of companies. Mouser is an award-winning, authorized semiconductor and electronic component distributor, focused on the rapid introduction of new products and technologies to electronic design engineers and buyers. Mouser.com features more than 4 million products online from more than 500 manufacturers. Mouser publishes multiple catalogs per year providing designers with up-to-date data on the components now available for the next generation of electronic devices. Mouser ships globally to over 500,000 customers in 170 countries from its 492,000 sq. ft. state-of-the-art facility south of Dallas, Texas. For more information, visit http://www.mouser.com.
About Cree
Cree is a market-leading innovator of lighting-class LEDs, LED lighting, and semiconductor solutions for power applications. Cree's product families include high-brightness LEDs, lighting-class power LEDs, and power-switching devices. Cree's LED solutions are driving improvements worldwide in applications such as backlighting, electronic signs and signals. Cree is also among the world's leading manufacturers of silicon carbide-based diodes for power control and management, providing increased efficiency in a variety of applications from solar inverters to industrial motor drivers to wireless technologies.
Trademarks
Mouser and Mouser Electronics are registered trademarks of Mouser Electronics, Inc. All other products, logos, and company names mentioned herein may be trademarks of their respective owners.