Mouser Electronics Now Shipping the Curiosity Development Board
from Microchip Technology

July 21, 2015 - Mouser Electronics, Inc. is now shipping the Curiosity Development Board from Microchip Technology. The Curiosity Development Board is a cost-effective, fully integrated 8-bit development platform for first-time users, designers, and those requiring a feature-rich rapid prototyping board. The Curiosity Development Board includes an integrated programmer/debugger and requires no additional hardware to get started.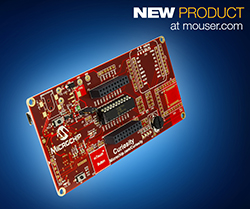 The Microchip Technology Curiosity Development Board, available from Mouser Electronics, uses Microchip's MPLAB® X integrated development environment (IDE) to simplify programming on the board. The Curiosity Development Board is an ideal platform for harnessing the power of modern 8-bit PIC® microcontrollers with Low Voltage Programming capabilities. The layout and external connections provide easy access to the Core Independent Peripherals (CIPs) available on many newer 8-bit PIC microcontrollers. These CIPs simplify the design and keep system power consumption and BOM costs low by enabling users to integrate various system functions onto a single microcontroller.
The Curiosity Development Board comes with several options for the user interface including physical switches, an mTouch® capacitive button, and an on-board potentiometer. Users can expand functionality through MikroElectronika MikroBUS™ Adapter Click Boards, and can add Bluetooth® Low Energy communication with the Microchip RN4020 module. Out of the box or with expansion boards, the Microchip Curiosity Development Board provides the freedom to develop for a variety of applications, including Internet of Things (IoT), peripheral testing, robotics development, and proof-of-concept designs.
For more information, visit http://www.mouser.com/new/microchip/microchip-curiosity-dev-board/.
With its broad product line and unsurpassed customer service, Mouser caters to design engineers and buyers by delivering What's Next in advanced technologies. Mouser offers customers 21 global support locations and stocks the world's widest selection of the latest semiconductors and electronic components for the newest design projects. Mouser Electronics' website is updated many times per day and searches more than 10 million products to locate over 4 million orderable part numbers available for easy online purchase. Mouser.com also houses an industry-first interactive catalog, data sheets, supplier-specific reference designs, application notes, technical design information, and engineering tools.