Mouser Signs Global Distribution Agreement with Eurotech, an
Intel IoT Solutions Alliance Member

September 16, 2014 - Mouser Electronics, Inc. has signed a global distribution agreement with Eurotech, a leading supplier of embedded technologies, products, and systems. Headquartered in Amaro Italy, Eurotech manufactures a wide range of reliable embedded products from single board computers (SBCs), data communications equipment, I/O cards, rugged mobile computers, IP networking equipment, development kits, and a Machine-to-Machine Integration Platform, the Everywhere™ Cloud.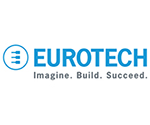 The Eurotech product line, now available from Mouser Electronics, is based on their philosophy of Pervasive Computing. Pervasive Computing combines three key factors: first, the miniaturization of computers capable of processing information; second, the spread of these computers in the everyday life world including buildings and machinery, on board vehicles, on persons and in the environment; and third the ability of these computers to network and communicate.
Eurotech products that Mouser will be carrying include the Antares Series 5.25 inch SBC, a high performance low power dual PCI minicard that targets multimedia and kiosk applications; the Isis Series PC/104 SBC, an Atmel Trusted Platform module that runs as fast as 1.6GHz with under 8 Watts; Catalyst TC Series SBC, a small fanless module with CAN 2.0, USB 2.0 host and client, and Gigabit Ethernet; Vector Series EPIC SBCs with support for dual CAN interfaces, USB 2.0 host and client ports, and a VGA display interface; and the ReliaCELL, an IP67 ruggedized cellular adapter. Operating systems supported include Wind River Linux, Windows Embedded, and Windows CE.
Development kits include Eurotech Device Cloud Development Kit and ReliaGATE Development Kits.
Eurotech is a member of The Intel® Internet of Things Solutions Alliance and is dedicated to developing cutting edge Internet of Things solutions using embedded applications.
To learn more, visit: http://www.mouser.com/Eurotech.
With its broad product line and unsurpassed customer service, Mouser caters to design engineers and buyers by delivering What's Next in advanced technologies. Mouser offers customers 20 global support locations and stocks the world's widest selection of the latest semiconductors and electronic components for the newest design projects. Mouser Electronics' website is updated daily and searches more than 10 million products to locate over 4 million orderable part numbers available for easy online purchase. Mouser.com also houses an industry-first interactive catalog, data sheets, supplier-specific reference designs, application notes, technical design information, and engineering tools.