You'll Be Shocked by the New Mouser Electronics High Voltage
Technology Site

September 17, 2014 - Mouser Electronics, Inc., a top design engineering resource and global distributor for semiconductors and electronic components, today announced the introduction of their new High Voltage Components Technology site. Mouser's new technology site provides developers with the resources they need to learn about the latest advances in this popular technology segment, including the newest products and the critical importance of keeping safety in mind when doing high voltage designs.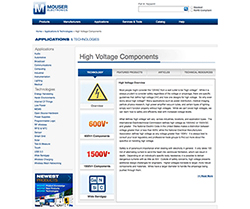 The new High Voltage Components Technology site, available on Mouser.com, contains valuable resources for developers interested in learning about high voltage design and how to choose the correct components. Many applications have traditionally used 600V to 1500V as the nominal operating voltage because these higher voltages allow a more efficient transmission of electrical power over long distances. When dealing with voltages of 600V or higher, it's important to consider the right use of design, construction, and safety guidelines including the proper spacing of electrical equipment, the use of more robust safety procedures, and the proper use of the correct test procedures.
The Technology section provides an easy to understand overview of this field, including how high voltage is defined differently depending upon the applications field and the importance of designing with safety in mind. The Articles section discusses important considerations when designing at high voltages, including Design Guidelines for Optocoupler Safety. The Technical Resources section lists videos and application notes that discuss device selection and application considerations for high voltage designs.
The Featured Products section focuses on key products available from Mouser.com that speed and enhance high voltage designs. Products include the ON Semiconductor 1200V NGTB30N120L2WG IGBT, the Vishay 600-650V E Series High Performance MOSFETs, and the Phoenix Contact 1500V SUNCLIX Connectors. All products are available for same-day shipping from Mouser.com.
To learn more, visit http://www.mouser.com/applications/high-voltage/.
With its broad product line and unsurpassed customer service, Mouser caters to design engineers and buyers by delivering What's Next in advanced technologies. Mouser offers customers 20 global support locations and stocks the world's widest selection of the latest semiconductors and electronic components for the newest design projects. Mouser Electronics' website is updated daily and searches more than 10 million products to locate over 4 million orderable part numbers available for easy online purchase. Mouser.com also houses an industry-first interactive catalog, data sheets, supplier-specific reference designs, application notes, technical design information, and engineering tools.