Mouser Speeds Design with Launch of MultiSIM BLUE, Powered by NI
New Design Tool Does it All: Scheme, Simulate, PCB Design & Layout, and
BOM to Cart Purchase

October 2, 2014 - Mouser Electronics today announces the global release of MultiSIM BLUE, the NI Multisim Component Evaluator Mouser Edition. The global distributor of electronic components is introducing the new, all-in-one circuit simulation tool, complete with integrated PCB layout and Bill of Materials (BOM). It allows you to scheme, simulate, PCB design, BOM export and purchase with one powerful integrated tool.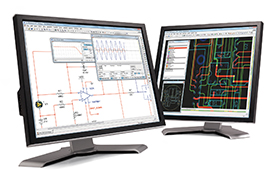 Available via free download on Mouser.com, MultiSIM BLUE enables engineers to design and simulate circuits before laying them out in physical prototypes. MultiSIM BLUE adds features and functionality to provide engineers with an industry-standard SPICE simulation environment of electronic circuits using Mouser's distributed components, including the newest in analog and mixed signal ICs, passive components, discrete semiconductors, power management ICs, connectors, and electromechanical components. Engineers can now visualize and evaluate linear performance, making this critical step of circuit design easier, faster and far more productive.
Simulation is driven by the same advanced parser technology as NI Multisim software with support from BSIM and other advanced parameters. With MultiSIM BLUE, engineers can easily create schematics, simulate circuits and build printed circuit board layouts, thanks to a fully integrated tool chain. Part selection is made easy with BOM export to cart purchase capabilities. Check out the powerful new tool by visiting http://www.mouser.com/MultiSimBlue.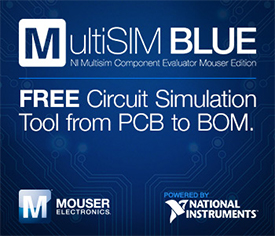 "Mouser is very excited to collaborate with NI on this new advanced design tool for engineers. Answering the needs of our customers is always top of mind at Mouser. We are constantly looking for ways to take that next step to help all of our customers, whether it's selecting, purchasing or designing the next great thing," said Kevin Hess, Vice President of Technical Marketing. "With MultiSIM BLUE, Mouser and NI have partnered to set a new standard in creating an easy-to-use, integrated platform for circuit simulation and design from PCB to BOM."
"NI has been providing design engineers with tools to optimize their design performance and reduce time to market for years," said Ray Almgren, NI Vice President of Marketing. "We're excited to partner with Mouser to extend the reach of our powerful design tools with MultiSIM BLUE and provide every circuit designer with the latest components in the market."
To learn more and download the new tool, visit http://www.mouser.com/MultiSimBlue.
With its broad product line and unsurpassed customer service, Mouser caters to design engineers and buyers by delivering What's Next in advanced technologies. Mouser offers customers 20 global support locations and stocks the world's widest selection of the latest semiconductors and electronic components for the newest design projects. Mouser Electronics' website is updated daily and searches more than 10 million products to locate over 4 million orderable part numbers available for easy online purchase. Mouser.com also houses an industry-first interactive catalog, data sheets, supplier-specific reference designs, application notes, technical design information, and engineering tools.