Mouser Launches New Security Applications Site

October 22, 2014 - Mouser Electronics, Inc. has unveiled their new Security Applications Site on Mouser.com offering design resources for engineers looking to develop cutting-edge security systems. As the world continues down the fast path of internet connectivity with the Internet of Things (IoT) and machine-to-machine (M2M) convergence, the role of security and combatting threats and vulnerabilities is becoming more important. Mouser's new Security Application Site simplifies security design by providing access to the latest security resources all in one place.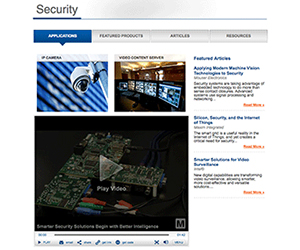 The new Security Applications Site, available on Mouser.com, contains valuable resources for developers interested in developing security related systems. The Applications section provides a comprehensive overview of IP Cameras including a detailed system diagram with recommended components. Developers can learn how an IP camera captures and transmits live images over a network, with remote viewing and user control available from anywhere at any time. Clicking on a block on the IP camera diagram brings up a list of applicable components including MCUs, image sensors, and audio codecs. Also available is a block diagram of a Video Content Analytics Server that explains how this technology processes many digital images and videos simultaneously, doing the work of hundreds of people.
The Featured Products section lists important components used for security applications. Products include the Analog Devices' Blackfin® 16-/32-bit Processors, TE Connectivity's CLOUDSPLITTER Connector System, Broadcom's Fast Ethernet Switches, and many more.
The Articles section of the website lists papers focusing on key topics including Applying Modern Machine Vision Technologies to Security, Silicon, Security, and the Internet of Things, and Smarter Solutions for Video Surveillance. All articles offer an area to post comments and questions to facilitate further discussions on the topic.
The Resources section lists videos and application notes that discuss device selection and application considerations for different security applications. Target applications include Authentication, Automotive, Biometrics, DVR, Embedded System Vision, Encryption, Ethernet, Industrial, IP Camera, Security ICS, Smart Grid and Surveillance.
To learn more, visit http://www.mouser.com/applications/security/.
With its broad product line and unsurpassed customer service, Mouser caters to design engineers and buyers by delivering What's Next in advanced technologies. Mouser offers customers 20 global support locations and stocks the world's widest selection of the latest semiconductors and electronic components for the newest design projects. Mouser Electronics' website is updated daily and searches more than 10 million products to locate over 4 million orderable part numbers available for easy online purchase. Mouser.com also houses an industry-first interactive catalog, data sheets, supplier-specific reference designs, application notes, technical design information, and engineering tools.