Mouser Features the Latest Type-C and 3.1
on New USB Technology Site
December 17, 2015 - Mouser Electronics, Inc. today unveiled its newly designed USB Technology site, created to give engineers easy-to-access information on the latest technical advances in USB Standards.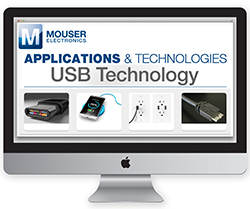 As part of Mouser's growing selection of Applications & Technologies sites, the USB Technology site provides a wealth of resource material — including a new section devoted to USB Type-C™ — as well as the newest USB connectors, controllers, and related components available at Mouser.
The USB Technology site, available on Mouser.com, contains helpful information for engineers who are interested in expanding their knowledge about USB technologies. The Product Selector section includes an Overview section, as well as tabs containing information on and links to products representing four USB standards and specifications: Type-C, Power Delivery, USB 3.1 Gen 1, and USB 3.1 Gen 2.
USB Type-C is the latest USB-IF connector standard, which offers a new reversible connector to fit nearly every purpose. The new USB standards, used in electronic devices and cables, promise to reduce clutter, provide unprecedented inter-operability, simplify docking, and provide much faster charging.
USB 3.1 Gen 1 (or SuperSpeed) delivers 5Gbps, up to 10 times the data transfer rate of Hi-Speed USB (480Mbps), and brings improved power efficiency to the market.
USB 3.1 Gen 2 (or SuperSpeed 10Gbps) defines a more efficient means of data encoding to deliver more than twice the effective data through-put of existing SuperSpeed USB (USB 3.1 Gen 1) over enhanced, backward-compatible USB connectors and cables.
The site's Featured Products section focuses on key products available from Mouser to help engineers incorporate USB technologies into products. Some of the Featured Products include the Texas Instruments TUSB321 USB Type-C configuration channel logic and port control; the TE Connectivity USB Type-C connector; and the Fairchild FUSB300C programmable USB Type-C controller.
The Articles section contains relevant information on USB technologies, including the Three "C's" of USB Type-C. All articles offer an area to post comments and questions to facilitate further discussions on the topic.
Finally, the Technical Resources section lists videos, application notes, and white papers that discuss device selection and system considerations when designing USB technologies into systems. The section includes discussions on migrating to USB Type-C, incorporating USB in automotive applications, and circuit protection for USB systems.
To learn more, visit http://www.mouser.com/applications/usb-technology/.
With its broad product line and unsurpassed customer service, Mouser caters to design engineers and buyers by delivering What's Next in advanced technologies. Mouser offers customers 21 global support locations and stocks the world's widest selection of the latest semiconductors and electronic components for the newest design projects. Mouser Electronics' website is updated daily and searches more than 10 million products to locate over 4 million orderable part numbers available for easy online purchase. Mouser.com also houses an industry-first interactive catalog, data sheets, supplier-specific reference designs, application notes, technical design information, and engineering tools.
About Mouser Electronics
Mouser Electronics, a subsidiary of TTI, Inc., is part of Warren Buffett's Berkshire Hathaway family of companies. Mouser is an award-winning, authorized semiconductor and electronic component distributor, focused on the rapid introduction of new products and technologies to electronic design engineers and buyers. Mouser.com features more than 4 million products online from more than 500 manufacturers. Mouser publishes multiple catalogs per year providing designers with up-to-date data on the components now available for the next generation of electronic devices. Mouser ships globally to over 500,000 customers in 170 countries from its 492,000 sq. ft. state-of-the-art facility south of Dallas, Texas. For more information, visit http://www.mouser.com.
Trademarks
Mouser and Mouser Electronics are registered trademarks of Mouser Electronics, Inc. All other products, logos, and company names mentioned herein may be trademarks of their respective owners.