Mouser Teams Up with Fairchild, Littelfuse, and Amphenol
Commercial to Offer the Building Blocks of a USB Type-C Solution
January 25, 2016 - Mouser Electronics, Inc. is teaming up with Fairchild, Littelfuse, and Amphenol Commercial Products to present the building blocks of a USB Type-C™ solution. Delivering data rates up to 10Gbps and up to 100W of power with a reversible interface for easy and reliable mating, USB Type-C technology offers a multifunction, single-cable solution for audio/video, data, and power. From laptops and smartphones to flash drives and video systems, the list of practical applications is growing because Type-C technology provides both data and power to hosts and devices, and offers a universal power cable solution. Mouser stocks the components engineers need to incorporate this vanguard technology into new and existing designs.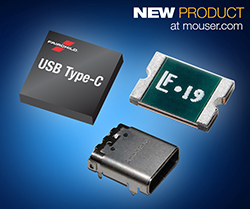 The Fairchild USB Type-C portfolio is optimized for cost, footprint, and low-power use. The devices in the Fairchild portfolio consume 90 percent less power than the nearest competing solutions, in packages that are up to 43 percent smaller. The offerings include discrete, flexible solutions ranging from controllers to power switches and USB 3.1 SuperSpeed switches.
As USB devices deliver more speed and power with smaller chips, protection against electrical transients and overcurrent faults becomes more critical and complicated. Littelfuse USB 3.1 Type-C circuit protection devices provide overcurrent and electrostatic discharge (ESD) protection while maintaining USB 3.1 Type-C data integrity. The Littelfuse circuit protection offering includes both resettable polymeric positive temperature coefficient (PPTC) devices, which provide overcurrent protection for the enhanced-capability power bus, and diode arrays, which offer ultra-low ESD protection for the high-speed data line, helping to ensure signal integrity.
Amphenol Commercial USB 3.1 Type-C connectors are fully compliant with Type-C specifications and are tailored to future USB performance needs for the newest emerging products. These low-profile connectors are small enough to fit in smartphone, tablet, and other mobile device designs, yet also meet the substantial performance requirements of laptops. The connectors offer reversible plug and cable directions and support scalable power charging with extended 5A current ranges plus USB Power Delivery specification. The connectors also meet USB 3.1 protocols, giving them high throughput speeds up to 10Gbps.
To learn more about creating USB Type-C solutions with Fairchild, Littelfuse, and Amphenol Commercial components, visit http://www.mouser.com/fal-usb-typec-campaign/.
With its broad product line and unsurpassed customer service, Mouser caters to design engineers and buyers by delivering What's Next in advanced technologies. Mouser offers customers 21 global support locations and stocks the world's widest selection of the latest semiconductors and electronic components for the newest design projects. Mouser Electronics' website is updated daily and searches more than 10 million products to locate over 4 million orderable part numbers available for easy online purchase. Mouser.com also houses an industry-first interactive catalog, data sheets, supplier-specific reference designs, application notes, technical design information, and engineering tools.
About Mouser Electronics
Mouser Electronics, a subsidiary of TTI, Inc., is part of Warren Buffett's Berkshire Hathaway family of companies. Mouser is an award-winning, authorized semiconductor and electronic component distributor, focused on the rapid introduction of new products and technologies to electronic design engineers and buyers. Mouser.com features more than 4 million products online from more than 500 manufacturers. Mouser publishes multiple catalogs per year providing designers with up-to-date data on the components now available for the next generation of electronic devices. Mouser ships globally to over 500,000 customers in 170 countries from its 492,000 sq. ft. state-of-the-art facility south of Dallas, Texas. For more information, visit http://www.mouser.com.
About Fairchild Semiconductor
Fairchild Semiconductor is a leading global supplier of power analog, power discrete, and optoelectronic components that optimize system power. Recognized as The Power Franchise®, Fairchild Semiconductor offers the industry's broadest portfolio of components for today's leading electronic applications in the computing, communications, consumer, industrial, and automotive segments.
About Littelfuse
Littelfuse offers innovative circuit protection solutions. Wherever one looks, Littelfuse is there. Streetlights, office buildings, cars, trucks, factories, computers, heating and cooling systems, electronic games, telecommunications equipment, even the satellites in the sky are protected by Littelfuse circuit protection products.
About Amphenol Commercial Products
Amphenol Commercial Products (ACP) is a world leader in providing interconnect solutions into a wide range of markets and applications, from traditional connectors to the latest and next generation technical products. ACP has earned a reputation of quality and excellence by understanding the importance of keeping people connected in today's high-tech world.
Trademarks
Mouser and Mouser Electronics are registered trademarks of Mouser Electronics, Inc. All other products, logos, and company names mentioned herein may be trademarks of their respective owners.