TI's bq25120 Battery Management Solution, Smallest on Market,
Now at Mouser
December 14, 2015 - Mouser Electronics, Inc. is now stocking the bq25120 battery management IC from Texas Instruments (TI). The bq25120 is the industry's smallest and lowest-power battery management solution in the wearables market, requiring a no-load quiescent current of just 700 nA at 1.8V when the buck converter is enabled. The solution supports batteries from 3.6V to 4.65V, and fast charge currents from 5mA to 300mA, allowing wearables and industrial Internet of Things (IoT) applications to always be on without draining the battery.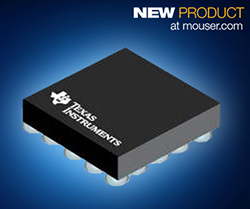 TI's bq25120 battery management IC, now available from Mouser Electronics, features a linear charger, configurable low-dropout (LDO) regulator, load switch, buck converter, pushbutton control, and battery voltage monitor in a diminutive 2.5mm² WCSP package. The bq25120 integrates a high-efficiency, low-quiescent-current buck converter with TI's DCS-control architecture that extends light-load efficiency down to 10-µA load currents. Low quiescent current during operation and shutdown enables maximum battery life, and the device's accurate charge termination down to 500 µA maximizes the energy delivered to the battery before completing the charging cycle, allowing batteries to draw a more robust full charge.
The bq25120's I²C programming interface allows designers to set key parameters including battery charger voltage, current, termination threshold, input current limit, load switch control, flexible timer, and reset options. The device is supported by the bq25120EVM-731 evaluation module, a high-performance, easy-to-use development kit that helps engineers design flexible power management solutions based on the onboard bq25120 IC. The bq25120 IC and evaluation module are ideal for smartwatches and other wearable devices, health monitoring accessories, and rechargeable toys.
To learn more, visit http://www.mouser.com/new/Texas-Instruments/ti-bq25120-battery-charge/.
With its broad product line and unsurpassed customer service, Mouser caters to design engineers and buyers by delivering What's Next in advanced technologies. Mouser offers customers 21 global support locations and stocks the world's widest selection of the latest semiconductors and electronic components for the newest design projects. Mouser Electronics' website is updated daily and searches more than 10 million products to locate over 4 million orderable part numbers available for easy online purchase. Mouser.com also houses an industry-first interactive catalog, data sheets, supplier-specific reference designs, application notes, technical design information, and engineering tools.
About Mouser Electronics
Mouser Electronics, a subsidiary of TTI, Inc., is part of Warren Buffett's Berkshire Hathaway family of companies. Mouser is an award-winning, authorized semiconductor and electronic component distributor, focused on the rapid introduction of new products and technologies to electronic design engineers and buyers. Mouser.com features more than 4 million products online from more than 500 manufacturers. Mouser publishes multiple catalogs per year providing designers with up-to-date data on the components now available for the next generation of electronic devices. Mouser ships globally to over 500,000 customers in 170 countries from its 492,000 sq. ft. state-of-the-art facility south of Dallas, Texas. For more information, visit http://www.mouser.com.
Trademarks
Mouser and Mouser Electronics are registered trademarks of Mouser Electronics, Inc. All other products, logos, and company names mentioned herein may be trademarks of their respective owners.